Pears are the signature fruit at the Ellwanger Estate
Pearfection with Poached Eggs
An Ellwanger Estate Original
2 Bartlett pears
4 strips of bacon
1/8 c Gorgonzola cheese
Honey
Bourbon barrel aged maple syrup
4 eggs
Smoked paprika
Preheat oven to 350 degrees F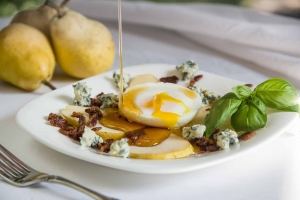 Cook bacon in oven until crispy for approximately 15 minutes
Sliced pears lengthwise 1/8 inch thick, 6 slices per person, drizzle with honey and bake at 350 for 10 minutes
Poach 4 eggs
Plate 6 baked pear slices/per plate, sprinkle with crumbed crisp bacon, and gorgonzola cheese, top with 2 poached eggs, drizzle with bourbon barrel aged maple syrup, and sprinkle eggs with smoked paprika (optional).
Serve warm
Serves 2      Prep time 10 min         Cooking time 15 min
Preheat oven to 350 degrees. In a medium mixing bowl, combine oil, sugar and eggs, blending well. Stir in pears, pecans and vanilla.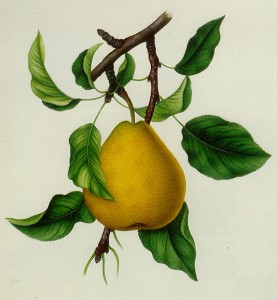 In another bowl,combine remaining ingredients. Stir dry ingredients into pear mixture, pour the batter into two greased 8 1/2 x 4 1/2 x 2 3/4 inch loaf pans, or four greased pint canning jars 40 minutes, or until a toothpick inserted in the middle comes out clean.
Cool loaves 10 minutes, then remove from pans and cool on the wire racks. Bread baked in canning jars must be cooled completely before capping to prevent bacterial growth. NOTE: This is not a canning technique; bread must be frozen or eaten fresh.
Makes Two loaves or four jars or bread.
1 c. vegetable oil
2 c. granulated sugar
3 eggs
2 1/2 c. peeled and chopped fresh pears (4 med.)
1 c. chopped pecans
2 tsp. vanilla extract
3 c. all-purpose flour
1 tsp. baking soda
1/2 tsp. salt
1 tsp. ground cinnamon
1/2 tsp. ground nutmeg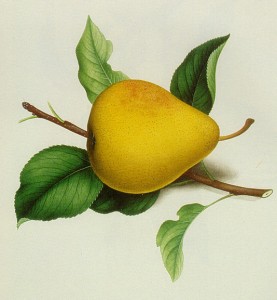 Heat oven to 375 degrees. Very lightly oil a 10-inch well-seasoned cast iron or enameled cast iron skillet with sloped sides. Peel, core and cut the apples into thin slices. Mix with cinnamon and sugars in a bowl.Stir in buttermilk, eggs and oil just until dry ingredients are moist; do not
over mix. Melt butter in a prepared skillet over medium heat. Add apple mixture (about 5 minutes). Gently pour flour-egg batter over the apples. Bake until the edges are golden, the apples tender, and the pancake puffed, 25-35 minutes. Serve immediately.
Serves: 4
Prep time: 10 minutes
3 Granny Smith apples
1/8 salt
2 t cinnamon
C buttermilk
C sugar
3 eggs, lightly beaten
C packed light brown sugar
2 T oil
C flour
5 T unsalted butter
1 t baking powder
Spicy Sausage
&

Vegetable Frittata Recipe

By Woman's Day Kitchen from Woman's Day
1 Tbsp oil
8 oz hot Italian turkey sausage, removed from casings
1 medium zucchini, thinly sliced
1 large red or green bell pepper, or 1/2 of each, diced
8 large eggs
4 oz part-skim mozzarella, shredded (1 cup)
1. Heat oil in a large nonstick skillet over medium heat. Add sausage and cook, breaking up chunks, 2 to 3 minutes until no longer pink.
2. Add zucchini and bell pepper, and saute 5 minutes or until vegetables are
tender.
3. Whisk eggs in a large bowl until well combined. Stir in cheese. Pour over sausage mixture in skillet and stir gently to distribute eggs evenly.
4. Heat broiler. While broiler heats, cook frittata 4 to 6 minutes until set on bottom and sides (eggs will be runny in center).
5. Broil 4 to 6 in. from heat source 2 minutes or until firm in center. (If the skillet handle is plastic or wood, wrap it in a double layer of foil to protect it from scorching.)
Spiced Banana-Walnut Muffins
Recipe created by Edward Espe Brown
Warm, rich, and subtly spiced, these muffins are therapy in a baking tin. Ripe bananas and apple sauce give them loads of flavor while keeping fat to a minimum.
This recipe uses applesauce in place of some of the butter or oil to make these muffins a healthier treat. For the richest flavor, use overripe bananas.
Preheat oven to 350. Line a standard 6-muffin tin with paper liners or grease well; set aside.
Put flour, baking soda, cardamon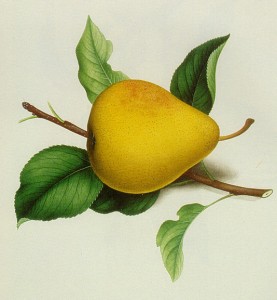 , cinnamon, nutmeg, and salt into a large bowl; set aside. Put sugar and butter or oil into a second large bowl and beat with an electric mixer until well combined. Add bananas, applesauce, zest, vanilla, and egg to the sugar-butter mixture, and beat again until combined. Add flour mixture to banana mixture in three parts, stirring well after each addition; fold in walnuts.
Spoon batter into prepared tin; bake until a toothpick inserted in the center of a muffin comes out clean, about 25 minutes. Serve warm or at room temperature.
Recipe adapted from The Tassajara Bread Book , by Edward Espe Brown, copyright C 1995 (with permission from Shambhala Publications, Inc.)
1 cup whole wheat or all-purpose flour
1/2 tsp. baking soda
1/2 tsp. ground cardamom
1/2 tsp. ground cinnamon
1/2 tsp. ground nutmeg
1/4 tsp. salt
1/2 cup light brown sugar
1/4 cup (1/2 stick) softened butter or vegetable oil
1 cup (2 to 3 whole) very ripe mashed bananas
1/4 cup unsweetened applesauce
1/2 tsp. orange zest
1/2 tsp. vanilla extract
1 egg
1/4 cup coarsely chopped walnuts
Serves 6
Ellwanger Banana Breakfast Muffins
A recipe developed in the test kitchen of the Ellwanger Estate Bed and Breakfast by food enthusiast 'Annie Get Your Grub'
Five star rating by Ellwanger guests
Preheat oven to 350. Line a standard 6-muffin tin with paper liners or grease well; set aside.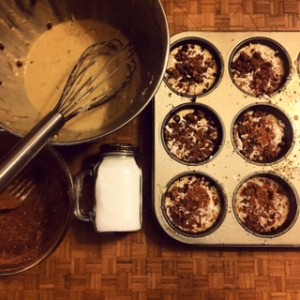 Mash 3 bananas until smooth and set aside. Whisk together eggs, milk, oil, vanilla, & maple syrup. Stir together banana and egg mixture. Slowly whisk in dry ingredients- sugar, flour, baking soda, salt, & cinnamon. Next, whisk in coconut shaving & chocolate chips. Pour mixed batter evenly into lined or greased muffin tins.
To make cinnamon crumble topping, combine softened butter, sugar, & cinnamon, and mix with a fork until crumbly. Sprinkle uncooked muffins with a layer of coconut followed by a layer of cinnamon sugar crumble mixture. Bake for 15-20 minutes, until lightly brown, firm, and baked through completely. Cool and enjoy now or package for later. Freezes well.
2 cup all-purpose flour
3/4 tsp. baking soda
1/2 tsp. ground cinnamon
1/4 tsp. salt
3/4 cup brown sugar
1/2 cup vegetable oil
1 cup milk
1 TBsp Maple Syrup
2 large eggs
3 very ripe mashed bananas
1/4 cup mini chocolate chips
1/2 c shredded coconut
1 1/2 tsp. vanilla extract
Topping:
1 TBsp softened butter
1/2 TBsp granulated sugar
1/2 TBsp cinnamon
1/2 cup shredded coconut