Minimum stay requirements:  Open year around. There is a two-night minimum on weekends and holidays. We may be able to accommodate your one-night stay depending on how our reservations fall. For one-night stays, a 100% deposit is required, and we cannot guarantee a specific room.
WiFi: The Ellwanger Estate provides complimentary high-speed wireless internet access throughout the B&B.
Pets: Out of courtesy to our guests with allergies, we can not accommodate pets.
Smoking is not allowed anywhere inside the house or grounds. No candle, incense or open flame of any kind is allowed in this circa 1880 wood structure.
Children: The Ellwanger Estate seeks to provide a quiet, restful, and romantic environment best suited for adults. However, accommodations are available for well behaved children 8 and older. We appreciate your understanding and cooperation. We will accept children under 8 y/o with total house rental. Additional guest fee for greater than 2 guests in a room, applied at $50/per person/per night- including babies).
Payment: CHECKS are PREFERRED and APPRECIATED. Cash, VISA and MasterCard accepted.
Check-In/Out: Guests are invited to check-in daily between the hours of  2:00 to 6:00 pm. Please make your travel plans accordingly. If you anticipate a late arrival (after 6 pm) please call 24 hours ahead to make special arrangements. Check-out is by 11:00 am.
Breakfast: A hot multi-course breakfast is served daily; seating times are at 8:30,  9:00, and 9:30 am.
Cancellations: As a small business, cancellations affect us greatly. When a reservation is made, your room(s) is/are guaranteed for the entire stay, and guests are responsible for the entire balance of nights reserved. Therefore, cancellations made more than 7 days prior to your arrival date will receive a refund minus $35 processing fee. Cancelation less than 7 days from your arrival date will be subjected to a one night charge and $35 processing fee/ per room. Regretfully, there is no refund for early departures, or shortened stays.  No shows and early departures will be charged for the full reservation.  Shortening of your reservation during the cancellation period is considered a cancellation of that night(s) and the regular cancellation policy applies. Reservations cancelled less than 30 days prior to a stay over major holiday periods or any other special event period ( to include  all Federal holidays, Lilac fest, peony weekend, Jazz fest, all graduations, L/PGA, and Meloria weekend) are NON REFUNDABLE.  Full House rentals require 45 days cancellation notice and have a $200 cancellation fee. Due to the difficulty in rebooking rooms at the last minute, it is necessary for us to enforce this policy. If you have any concerns about having to cancel, we recommend you look into travel insurance. Thank you for your understanding.
Gratuities: In response to inquires from our guests, please note that staff members are permitted to accept gratuities. Gratuity recognition is welcome for exceptional service from any of our staff members or service teams.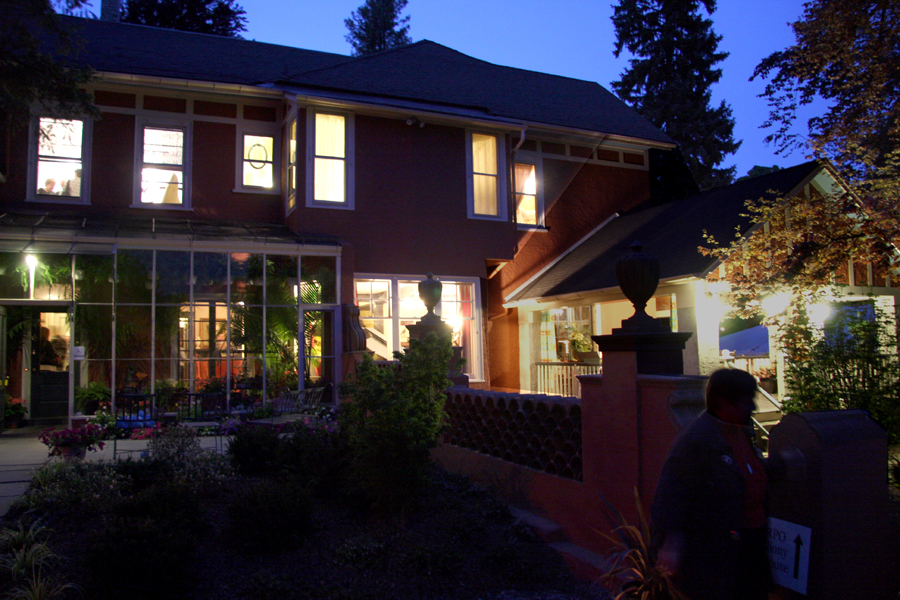 On Site parking is provided
Gourmet breakfast
Gift certificates available
Central heat/air conditioning
All rooms have private baths
All guest rooms are television free, the library TV is for guest use.
Room rates are based on room occupancy (max 2 persons) and include a full breakfast, evening dessert and always available coffee and tea
Outdoor cat on premise. She is a shy rescue cat named "Meja"
We take your privacy very seriously and this privacy statement is here to help you understand what we may do with any information you give us about you. This privacy statement only relates to our website and does not extend to your use of the Internet outside of our website or to any websites that are linked to our website.
You can access our website home page and browse our site without disclosing your personal information, but if you do give us your personal details, you are accepting these terms. If you do not agree with this privacy statement, do not give us your details. This privacy statement is part of our Terms and Conditions. We may need to update this privacy statement from time to time. You should regularly check this page to make sure you have read the most recent version.
Personal information provided is stored for our own records only and will not be disclosed to third-parties.
Information we may collect about you
Personal information is limited to your name, phone number, email address. These details are only known to us if you complete the contact form.
How we will use your details
We will only use your contact details in order to contact you. We never give or sell our customers details to third parties.
Where we store your personal data
All information that you supply us with is stored on secured servers. We will take all reasonable steps necessary to make sure that your data is treated securely in line with this privacy statement.
About cookies and the way we use them
In common with other websites, we do also use "cookies".
You can control the use of cookies on your computer and can turn them on or off at anytime in your web browser settings. This site also asks if you wish to accept cookies. The cookies we use on this site are in relation to analytics and social media:
Analytics – We use analytics cookies to helps us understand how users engage with our website. An example is counting the number of different people coming to our website or using a particular feature, rather than the total number of times the site or feature is used. Without this cookie, if you visited the website once each week for three weeks we would count you as three separate users. We would find it difficult to analyse how well our website was performing and improve it without these cookies.
Social Sharing – We use cookies to allow you to share content directly on the social networking/sharing sites like Facebook, Twitter or Google+. Examples would be if you wanted to "like" or "tweet" about a business or service on our website.