The Ellwanger Estate: Bed
&

Breakfast
The home of George Ellwanger and family for 115 years has under gone a comprehensive historical restoration. We wish to share the Ellwanger Estate as your premiere lodge destination. Please share the excitement and energy of this landmark site.
The historical Ellwanger Estate located in the heart of Rochester's Mount Hope Cultural District is your premiere lodging destination. From film shoots to friendly overnights, this beautifully restored home offers four rooms with spectacular views of the lush garden and courtyards. Stroll in the famous Ellwanger Gardens or enjoy a cool drink on the home's restored veranda. The natural beauty of the Mount Hope and Highland Park Preservation area, combined with the ambience of The Ellwanger will exceed your every expectation. The Ellwanger will be pleased to help you plan a special event or a simple weekend get-away.
Now get ready to charge your batteries at the Ellwanger Estate B&B. We teamed up with Tesla Mo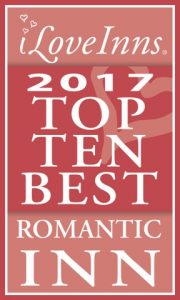 tors to become the area's first lodging host to offer a Tesla Destination Charger for overnight guests. Tesla Destination Charging is now offered as a new amenity for our overnight guests. This installation makes The Ellwanger Estate a new hot spot on the national electric vehicle map.
The Ellwanger Estate is the former home of George Ellwanger, world-renowned Horticulturist. The Gardens are owned and maintained by the Landmark Society of Western New York and the seasonal changes invite you to come back year after year.
Rochester offers many area attraction- The Susan B Anthony House, Strong National Museum of Play, Memorial Art Gallery, George Eastman House, Mount Hope Cemetery, Rochester Museum of Science,  Strasenburgh Planetarium, Highland Park, University of Rochester, and the Eastman School of Music, just to name a few. Ask our knowledgeable staff to assist you with the many possibilities to explore in the Rochester Area and about the many fine-dining establishments that Rochester offers.